Language Learning Market to Join Capital Factory's Portfolio as Expectations for Seed Round Exceed $500K, Round Closes June 30th
fundraise, capital factory, ceo allison monroe, mckinney texas, language learning market, etsy of education, learn languages, teach languages, seed round
Language Learning Market to Join Capital Factory's Portfolio as Expectations for Seed Round Exceed $500K, Round Closes June 30th, 2022
United States - June 3, 2022 — https://thetexastoday.com/pres...
Language Learning Market (LLM) is pleased to announce that it has joined Capital Factory's group of portfolio companies. LLM is raising its $500,000 Seed Round and expects to oversubscribe with an additional $300,000 grant. The organization also announced that the round closes on June 30th, 2022.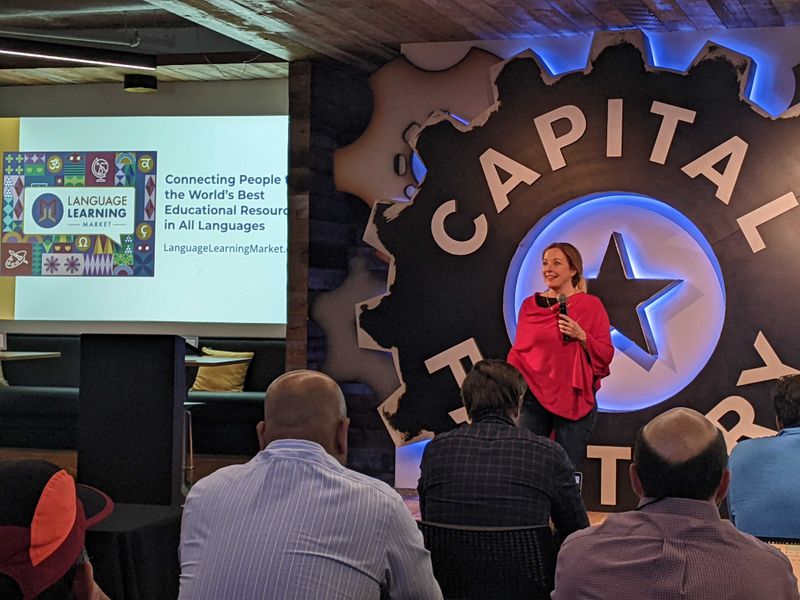 "We are thrilled to join Capital Factory's Portfolio of companies who are disrupting global industries with support from investors and mentors in our home state of Texas," said Allison Monroe, CEO of Language Learning Market. "With the support of CF, we look forward to closing this round at the end of the month and getting back to the work of growing our company."
Founder, Allison Monroe, had done this successfully in the past. In 2007 she could not find the resources she needed to raise her children to be fluent in Arabic. She went to the Middle East on a search and found incredible businesses with beautiful products that didn't have distribution. She successfully took dozens of companies global, establishing them as global brands, and then digital, while building an online community with more than 1 million engaged users. She has scaled this business model from 1 language to 7,000 to tackle the $77 billion global language learning industry.
Fully bootstrapped, Language Learning Market has produced 1200% MoM Organic Growth in Revenue from B2B2C Commissions, SaaS Subscriptions and Advertising Revenue this quarter.
Since its soft launch in 2021, the Language Learning Market has grown organically with 150+ educational companies onboard with a 99% conversion rate and 2,500 product listings, all with proven product market fit.
Furthermore, their YouTube Channel has garnered over 1.3M followers, positioning them as influencers in global education, driving traffic, and brand advertising to their platforms. Language Learning Market is gearing up to launch its Grand Opening this summer.
Recently, Language Learning Market was named, "The Future 5 of DFW Tech," as one of five up-and-coming Dallas-Fort Worth startups to watch in 2022. It was also listed among the "22 Dallas Startups to Watch in 2022", one of the top young companies heating up the local tech market this year.
For more information, please visit www.languagelearningmarket.com or send an email to nayeli@languagelearningmarket.com.
About Language Learning Market
Language Learning Market bridges the gap between sellers and buyers for the global educational industry; providing direct access for sellers to their target audience. Meanwhile, from its platforms make it easy for parents and educators to find the world's best educational resources in any language.
Language Learning Market curates, organizes, and promotes educational companies through:
● Online Marketplace for buying and selling educational resources in all languages (think, Etsy)
● Educational Industry Directory with curated business & school listings & reviews (think, Trip Advisor)
● Media Influencer Network Platforms is dedicated to expert advice and brand advertising (think TED-Ed + brand advertising)
LLM has boots on the ground in 10 countries and is headquartered in McKinney, Texas.
About Capital Factory
Capital Factory is a venture capital firm and an accelerator that seeks to invest in seed-stage, early-stage, and later-stage companies. Capital Factory, a startup centric organization dubbed as the "center of gravity for entrepreneurs in Texas" and the most active early-stage investor in Texas. They find the best entrepreneurs in Texas and introduce them to their first investors, employees, mentors and customers.
Contact Info: Name: Nayeli Macias Email: Send Email Organization: Language Learning Market Website: http://www.languagelearningmarket.com/